Deerwood Inn & Madison Campground in Madison, FL
Deerwood Inn & Madison Campground welcomes travelers passing through Madison, FL. Whether you prefer cozy motel room, an accommodating RV space or a place to set up your tent, we're ready to meet your needs. Our motel and campground brings you a wide range of amenities and conveniences, and we're dedicated to keeping you comfortable for as long as you're with us. Whether it's overnight or for an extended stay, our rates are affordable!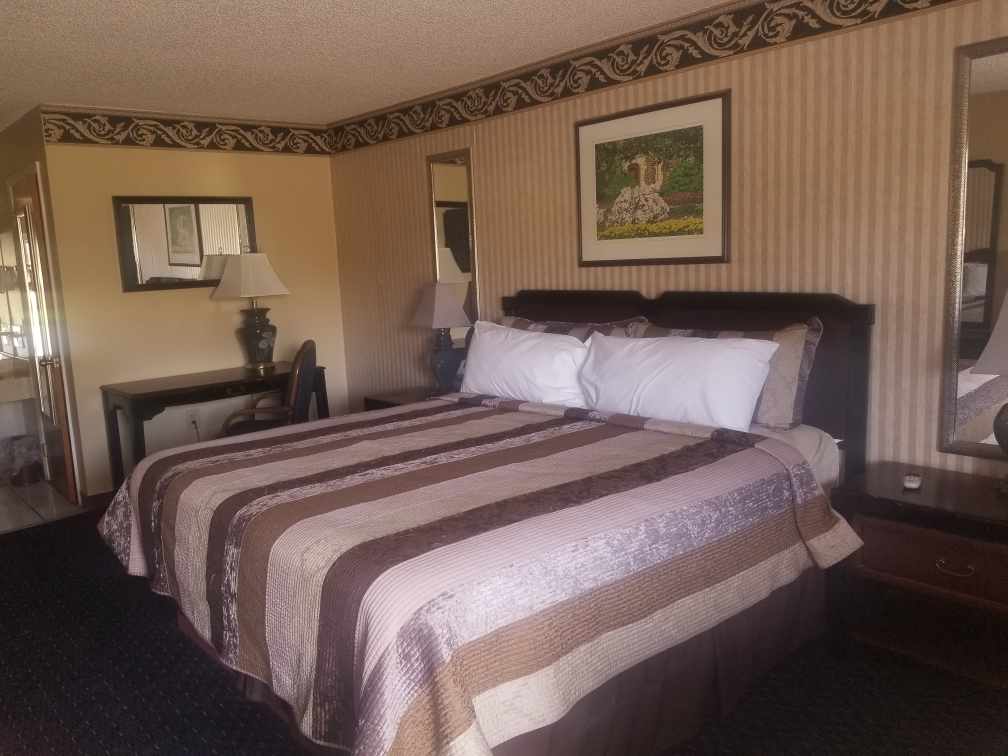 Lodge in Total Comfort and Explore all Madison, FL has to Offer
It can be hard to find comfort when you're on the road traveling, far away from home. At Deerwood Inn & Madison Campground, we understand, which is why we try our best to give you a home away from home feel! Our motel is completely dedicated to providing you with comfort, convenience and anything else you need to enjoy your stay with us. It's this attention to detail and commitment to customer service that's made us one of the top-rated hotels in Madison, FL! Best of all, we deliver this premium experience at an affordable cost. You don't need to break the bank to enjoy your stay with us!
With 32 well-maintained rooms and 75 total RV and camping spaces, we're set up to accommodate you—no matter how many people are traveling with you. We even welcome the family dog! Enjoy daily pricing or discounts for extended stays, and know you're going to get the very best customer service for as long as you're with us. From satellite TV and premium channels, to in-room mini-fridges and coffee makers, to a campground filled with entertainment options and amenities, we've got something for everyone.
We're conveniently located right off of I-10, with direct freeway access so you can explore Madison, FL and the nearby area. Our front desk staff can even recommend a few attractions for you to check out—as far away as Tallahassee, FL. Make your reservations today and let us know what we can do to make your stay with us an exceptional one. We'll go above and beyond to make sure you're comfortable, welcome and happy at all times.
Our front desk is staffed 24 hours a day—we're always ready to check you in or out!

Our staff is multi-lingual and friendly, always putting your needs first.

We offer great rooms, as well as RV and tent campsites—all at great prices.

Children 12 and under stay free! We're also a pet-friendly facility, with no breed bans.

We offer various discounts, including AAA, military, AARP and for extended stays.
Proudly offering a clean and welcoming Motel and Campground in Madison, FL. If you are traveling through to any of the follwoing areas, stay with us!
Hanson, FL
Hamburg, FL
Greenville, FL
Lee, FL
Pinetta, FL
Tallahassee, FL
Live Oak, FL
Monticello, FL
Perry, FL
Madison County, FL
Lake Frances
E State Park
Wardlaw-Smith-Gora Mansion
Treasures of Madison County Museum
North Florida Community College
Lake Osceola
Mystic Lake
Make a Reservation
Whether you're passing through or staying a while, we welcome you to our hotel and campground! With affordable rates and premium amenities, you won't want to leave!