Rooms in Madison, FL
With 32 well-maintained, comfortable rooms available, Deerwood Inn & Madison Campground is ready to welcome you and your family for as long as you choose to stay with us. Whether you're in town on a college visit or passing through on your way to a different destination, our rates and amenities make us the best place in Madison, FL to stay.
We set ourselves apart from other motels by being flexible. We have affordable daily rates and are a long-term motel, welcoming guests for extended stays. Whether it's just you or the whole family, we'll make your time with us enjoyable. You can even bring the family dog—we don't have any breed or size restrictions!*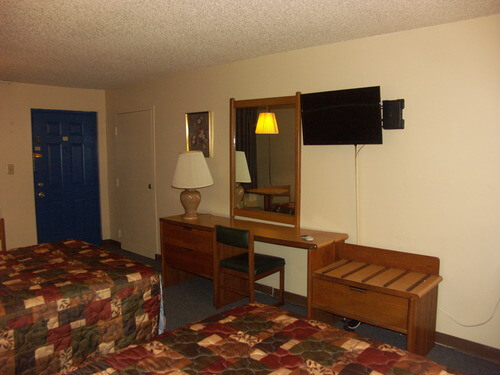 Room Features

You deserve to be comfortable in your hotel room. We make sure your room is everything you expect and more—so comfortable you won't want to leave! From daily maid services, to in-room amenities, we promise a room that's well-kept and ready to accommodate you—whether you're just using it as a place to rest or plan on catching up on some quality TV time.

Smoking or non-smoking**
Microwave in every room
Mini refrigerator in every room
Flat screen TV in every room
Over 100 premium channels, including free HBO and Cinemax
Complimentary Wi-Fi

Available Room Types

Many motels and long-term hotels only have one specific type of room, universally available to all guests. Not us! Our rooms vary, giving you the right accommodations depending on how long you're staying with us or who's all along for the trip. Choose from one bed or two, smoking or non-smoking, and get the best rate possible.

2 Double Beds (non-smoking)
2 Queen Beds (non-smoking)
1 King Bed (non-smoking)
2 Double Beds (smoking)
King (smoking)
We've Got Your Room Ready!
Planning on traveling through Madison, FL? Book your room at Deerwood Inn & Madison Campground today and we'll make sure it's ready and waiting for you when you arrive. Contact us today at 850-973-2504 for information about rates and availability.
*Extra Charges for Pet Fee per night, limited rooms for pets.
**We have smoking and non-smoking rooms available.